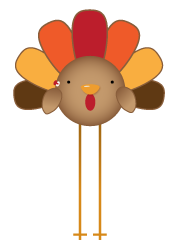 Our offices will be closed for the holiday on:
Thursday, November 28th and Friday, November 29th.
If you prefer a quiet Black Friday, the servers will be up. So sit with your coffee and leftover stuffing and upload your orders!
And have a Happy Thanksgiving!
Also ...
If you need to order albums, books, gallery blocks or blankets for Christmas, be sure to check our holiday product deadlines. All other products will have normal turnaround times through the season.